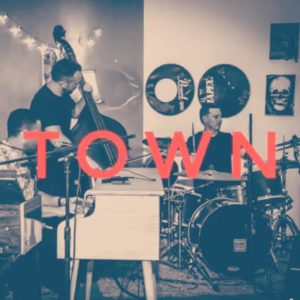 With 17 Years under his belt as a pianist, vocalist and musician,
Ant Syms and his band TOWN have been hard at work writing,
playing and creating music that hopes to deliver a punch to the Alternative folk / rock soundscape.
With bassist Mark Davies and drummer Richard Graves,
TOWN draw influence from a diverse blend of punk, rock, jazz, blues and soul.
Led by by piano and vocals, driven by rock Drums and grounded by double bass and bow, The music is Defined by a unique mix of heart felt tributes, waltzy ballads, boot stomping rock and slow building moody tension.
The sounds evoke imagery of dark alley ways and howling dogs,
broken bottles and hearts, battles lost and things found.
Where roads cross and paths meet, where the lights are dim and Whiskey is your Sin. Welcome to TOWN.
Brissy band Candybomber will be opening up the night!
Formed in Brisbane in early 2015, Candybomber is an unashamedly nostalgic indiepop band consisting of Stewart (guitar), Anthony (drums), Matt (vocals), Fasel (guitar) and Warren (bass).
From 1992 through to 2013, Stewart released a number of records as The Kensingtons on labels in the US, UK, France and Germany. He is now bringing his love of all things indiepop to Australia with Candybomber.
Influenced by The Wedding Present, Jesus & Mary Chain, Teenage Fanclub, The Darling Buds and The Primitives, Candybomber's sound combines infectious melody with chainsaw guitars and jangling loveliness.
Candybomber - 9pm
TWON - 10pm