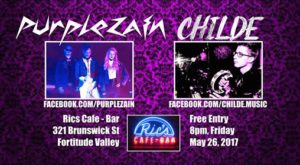 PurpleZain:
https://web.facebook.com/purplezain/
PurpleZain had a huge 2016 touring Australia and Asia on the back of his T-Pop Mini Album. Now the Prince of the Tweed returns to Ric's with his band and dancing girls for their Brisbane first gig of 2017.
Childe:
https://web.facebook.com/Childe.music/
Psychadelic, brooding, atmospheric and mesmerising. Childe bring a mash up of sweeping guitar, electronic clicks and subtle vocals to creat a hybrid rock electro sound unlike anything else.