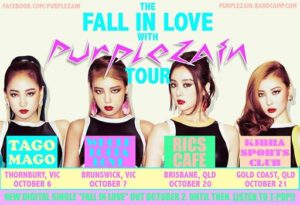 PurpleZain is hitting the road in October for the "Fall In Love with PurpleZain Tour." The PurpleZain band will be playing 2 Melbourne dates as well as Brisbane and the Gold Coast between October 6-21.
On October 2, 2017, PurpleZain will be releasing his new single "Fall in Love" from the upcoming album Supervision II: The Psychopathology of Angelica Deathray.
Supervision II is the sequel to his 2014 concept album Supervision. The second instalment continues the story of the young Psychiatry Registrar, now a Consultant, as he takes on his most despondent client yet, the aberrantly disturbed Angelica Deathray.
October 20 at Ric's Cafe PurpleZain will be supported by:
Susannah Cherisse