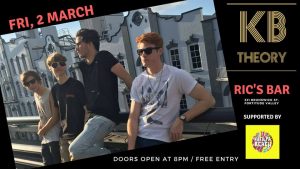 Brisbane-based indie Rock/Pop band, KB Theory, will get you in with their hard-hitting, catchy riffs that will take you on a musical journey. Blending influences from Australian classic noughties rock with a dose of catchy pop, be prepared to move.
Coming out of a shed in Moorooka to your selector's sound system, these five flashy fellas from Kurilpa Reach will treat you with some fully fabulous beats.
Kurilpa Reach – set time: 9pm,
KB Theory – set time: 10pm.
Free entry!