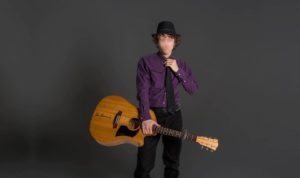 End of May I'm back to rock Ric's!
This time I'll be joined by the awesome Sam Hattersley Music to kick off the night.
Doors open at 8pm, FREE ENTRY!
Come on down for a tune or three.
Conspiracy of One:
================
In a dark, smoky room in a far away city, a shady cabal of businessmen plot to control the music industry. Manufacturing pop stars, censoring dissenters and controlling the media in order to market their plastic version of music to the world, this group continues to make untold millions off of the great unwashed masses.
But one man has uncovered the truth! That there are songs out there with a heart, a message, a purpose.
This man fights to bring you songs with dynamic, rhythmic guitar, powerful raw vocals, emotion, allusion, metaphor and satire. Songs that are just catchy enough to stay in your head, and deliver to you their not-so-subliminal messages.
For security reasons, lest THEY track him down, he can give you only his code name: "Conspiracy of One".
================
Sam Hattersley:
================
Brought up in McLaren Vale, South Australia, I grew up in a big family and had a lot of exposure to music. I played piano as a young boy and slowly began to fall in love with the guitar
Ever since I can remember I have always wanted to be a musician, write my own songs, and play to thousands who appreciate the stories I have to tell.
When I moved from the suburbs into the city in my early 20's, it opened up a new world of music for me and amazing opportunities to share it.
All my lyrics are inpired by life events, both the good and the bad, and being raised in a world where the very nature of who I am was condemned.
There are always things in life to be thankful and happy for and I think I have so many of those things
================