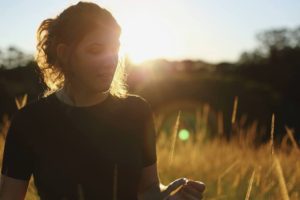 Cecilia Brandolini will be coming doing her first ever solo show in Brisbane on the 22nd of May.
The event will be held at Rics Bar.
-Serves dinner and drinks.
-Good For Groups.
-Outdoor Seating.
Address: 321 Brunswick Street Fortitude Valley Brisbane QLD 4006 Australia
Bookings – Email: bookings@ricsbar.com.au
This is a free event.
-About Cecilia Brandolini-
'There are many paths you can follow that lead to a life of music. For many, inspiration strikes in adolescence; for others, it is only once they step out into the adult world that their talent rises to the surface. And then there are those who find their calling in Year 4, busking with a ukulele outside their mom's meringue shop in Byron Bay.
"Having a supportive and musical family, and having a Steiner Education from Year 1 to 12 really did shape my personality, and thought process," Cecilia says. "The different ways of teaching, and understanding so many different things without forming opinions too quickly, it helps me continuously in having a higher standard in everything that I do, especially in my music. Byron Bay and its accepting nature exposed me to so many quirky people, strange music, and has given me such interesting influences."
With her elder brother Gabriel, they formed the aptly-named duo, Gabriel & Cecilia, finding national attention after being selected by will.i.am on The Voice Australia. Not content to stop there, with two younger siblings she began performing as part of Three Little Sisters, and soon Cecilia had begun travelling the country, developing her craft from Melbourne to Arnhem Land, Toowoomba to Perth, and countless places in between.
In 2014 she won the NCEIA Dolphin Award for Best Female Vocalist, supported Taylor Henderson, shared the stage with INXS frontman Ciaran Gribbin and began solidifying her presence on Australia's festival stages. More recently, after relocating from the beaches of Byron to the harbour lights of Sydney, she began performing as one half of Cecy and Henry, quickly establishing herself as an unmissable voice in the Sydney alt-folk scene. Having recently returned from her debut performances in Europe – notably La Pétaudière in Montmarte, France and the Camphill Ballytobin in Kilkenny, Ireland – Cecilia has begun focusing on her her latest EP, to be released later in the year.
With her breathtaking voice reminiscent of Kate Miller-Heidke, piano talents that bring to mind Regina Spektor, and a songwriting touch that harks to none other than the great Joni Mitchell, Cecilia Brandolini is a talent impossible to ignore.'
-Adam Norris
Photography by Ingrid Pullen Photography